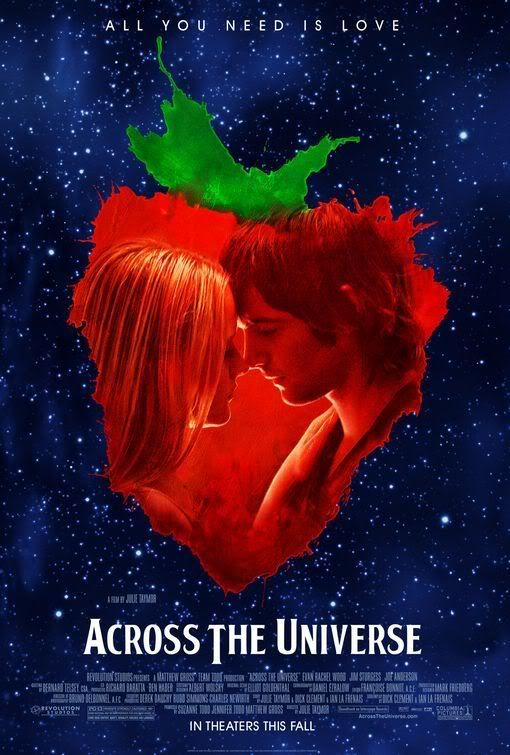 Reseña:
Titulo: Across the universe (2007)
Genero: Musical, romance
Duración: 02h-10min aprox
Idioma: Ingles con subtitulos en español incorporados.
Tamaño: 498 MB aprox
Formato: RMVB
"Across the universe" narra una historia de amor ambientada en el trasfondo de los años 60, en medio de los años turbulentos de las protestas contra la guerra, la exploración mental y el rock'n roll. La película se traslada desde los muelles de Liverpool hasta la psicodelia creativa de Greenwich Village, desde las calles rasgadas por las revueltas de Detroit hasta los campos de muerte de Vietnam. Los desventurados amantes, Jude y Lucy, junto con un pequeño grupo de amigos y músicos, son arrastrados hacia los movimientos emergentes contra la guerra y las tendencias contraculturales, con el Dr. Robert y Mr. Kite como sus guías..
DESCARGAR:

http://freakshare.net/files/689jlzvp/Atudpy.part1.rar.html
http://freakshare.net/files/4433f9hh/Atudpy.part2.rar.html
http://freakshare.net/files/lk0aun6y/Atudpy.part3.rar.html
http://www.fileserve.com/file/Mnauzz9/Atudpy.part1.rar
http://www.fileserve.com/file/x5PmuHy/Atudpy.part2.rar
http://www.fileserve.com/file/FSm8YGm/Atudpy.part3.rar